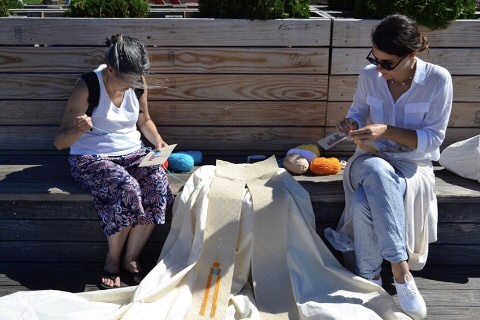 Hunter's Point South Park/Queens Museum, Queens, NY 2017
Participatory embroidery project and exhibition of works on the theme of dwelling (as part of 2017 Queens Art Intervention).
The Sperveri is an embroidered curtain used to separate the bridal bed from the rest of the one-roomed houses. It was woven by the bride on the loom and was a common form of bed furnishing in the Greek Dodecanese (an area  in the Aegean Sea).
This project is a hands-on participatory piece that engages residents who are interested in decorating a wedding curtain with patterns and symbols meaningful to them. Fotis Flevotomos and Vassiliki Spachou, told the story of the Sperveri and acted as facilitators for its decoration. The resulted works were exhibited in Queens Museum (December 2017).
Exhibiting Artists: Fotis Flevotomos, Vassiliki Spachou
Produced by RPGA Studio, Inc.