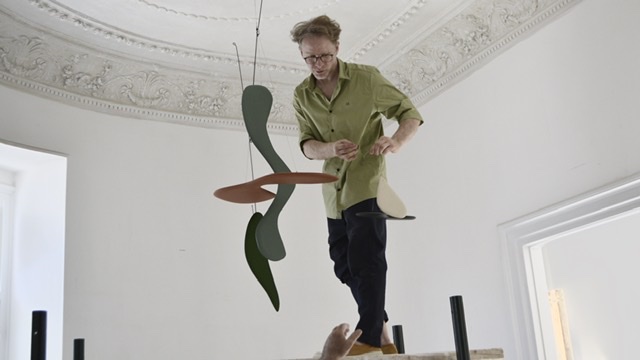 photo: © 2022, Vassiliki Spachou

Fotis Flevotomos is a visual artist that explores multimodal ways of interacting with space through mobile structures, furniture design, socially engaged projects, site-specific and multisensory practices. Play, materiality, movement and sound are all recurrent elements in his work.
Flevotomos' practice in museums combines verbal description, participatory discussions, performance interventions, walking practices, sound pieces, touch tours and story-telling. In 2014 he initiated in collaboration with the Benaki Museum a monthly program for visitors who are blind or partially sighted. He has also designed such programs for the Selis Manor Center and the New York Public Library in NYC, the Stavros Niarchos Foundation Cultural Center and the Museum of Cycladic Art in Athens.
In 2012 he received a Fulbright grant and was hosted by the New York Public Library for a study on the connections between art and low vision. While in NYC he had many opportunities to contribute to NYPL initiatives for patrons who are blind or partially sighted and speak publicly about making art with low vision.
His works and public engagement interventions have been hosted and published by the New York Public Library, the Benaki Museum, the Queens Museum, the monument of Imaret, the journal LEONARDO (MIT Press), the Leigh Fermor House, the Stavros Niarchos Foundation Cultural Center, the Siena Art Institute, the Fulbright Foundation, the Museum of Cycladic Art and others.

https://www.instagram.com/fotis_flevotomos/